VGen is built to be a haven for your art and your portfolio is the best place to house all of your works so you, your friends, and potential clients can admire all that you've created.
Portfolios are the best way for potential clients to get a sense for the consistency of your work across all of your different services and styles! Showcases will also soon be synced to a global discovery feed, and so preparing your feed now gives you a leg up to be discovered easier in the future~
Tap the "+ New" button in the top right of your "Portfolio" tab to get started!
Note that all media across VGen - and especially your portfolio - are right-click "save as" protected and will also be auto-watermarked (visible and invisible) in the future to protect against human and AI thieves.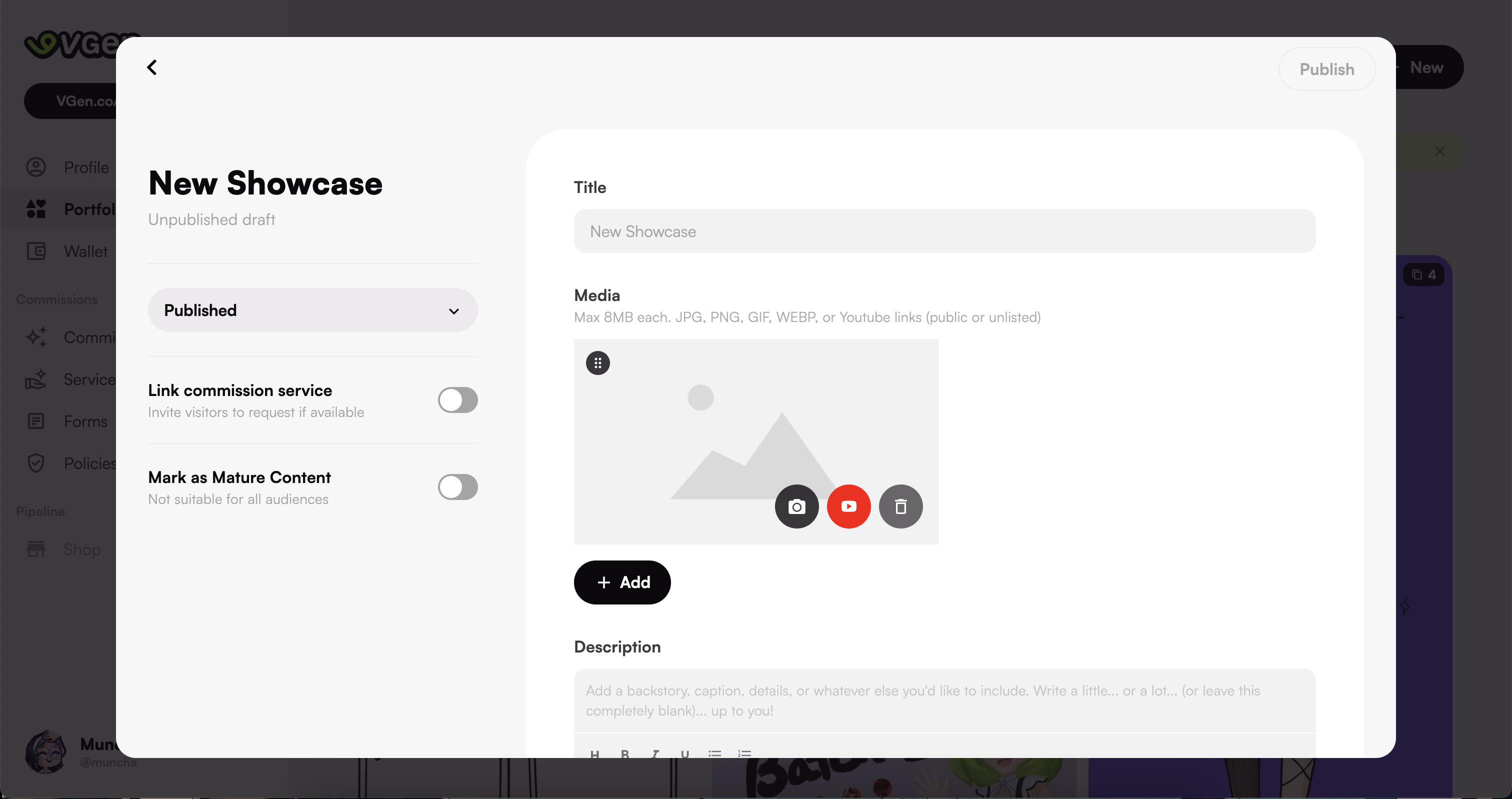 1. Title
Required
This is the name of your showcase. We do NOT recommend using showcases as folders in 90% of use cases.
Knowing that, the easiest way to set up many showcases of similar work is to create one, then duplicate it - which you can do from the showcase popup.
2. Media
Required
Media is at the heart of showcases and we've made sure to make these as flexible as possible to accommodate all the different types of content you'd like like share.
All media are stacked on top of one another in the showcase popup, so you can use this to highlight different variations, case studies, or even comics!
Pro tips
Portfolio covers can be between 16:9, up to 1:1.9, fit to width - perfect for showcasing full body models.
3. Description
Optional
Whether you want to write nothing, add a little description, credit cocreators / clients, or use the space to share an entire novel, you can~
4. Tags
Optional
Your top tags will be displayed at the top of your portfolio as filters.
Note that these will also be the tags for global discovery in the future so be sure to tag appropriately to avoid having to go back later.
5. Published / Draft
Draft makes the showcase only visible to you while Published is publicly visible to all.
6. Link commission service
Recommended
If the showcase is of a commission service that you offer in your VGen comm box, be sure to connect the two here so that visitors can be prompted to "Commission something similar"!
7. Maturity Rating
As required
If your media includes any mature content, it must be marked as such or you may risk content removal or account suspensions.
Learn about our NSFW policy here →
Next up
WOW! STUNNING! Your portfolio is now live but let's get your payouts set up so you can start accepting comm requests!