While you can personalize your profile, add services, and set your portfolio live before verifying your payout details, you will need to set up at least one payout method before you can set your comm box live.

Depending on your payout country, we offer payouts via PayPal and / or our in-house VGen Payments system (powered by Stripe).

We recommend enabling both if they are available to you.

Note that with VGen Payments, Stripe powers our in-house system but you're NOT signing up for Stripe or using a standard Stripe account.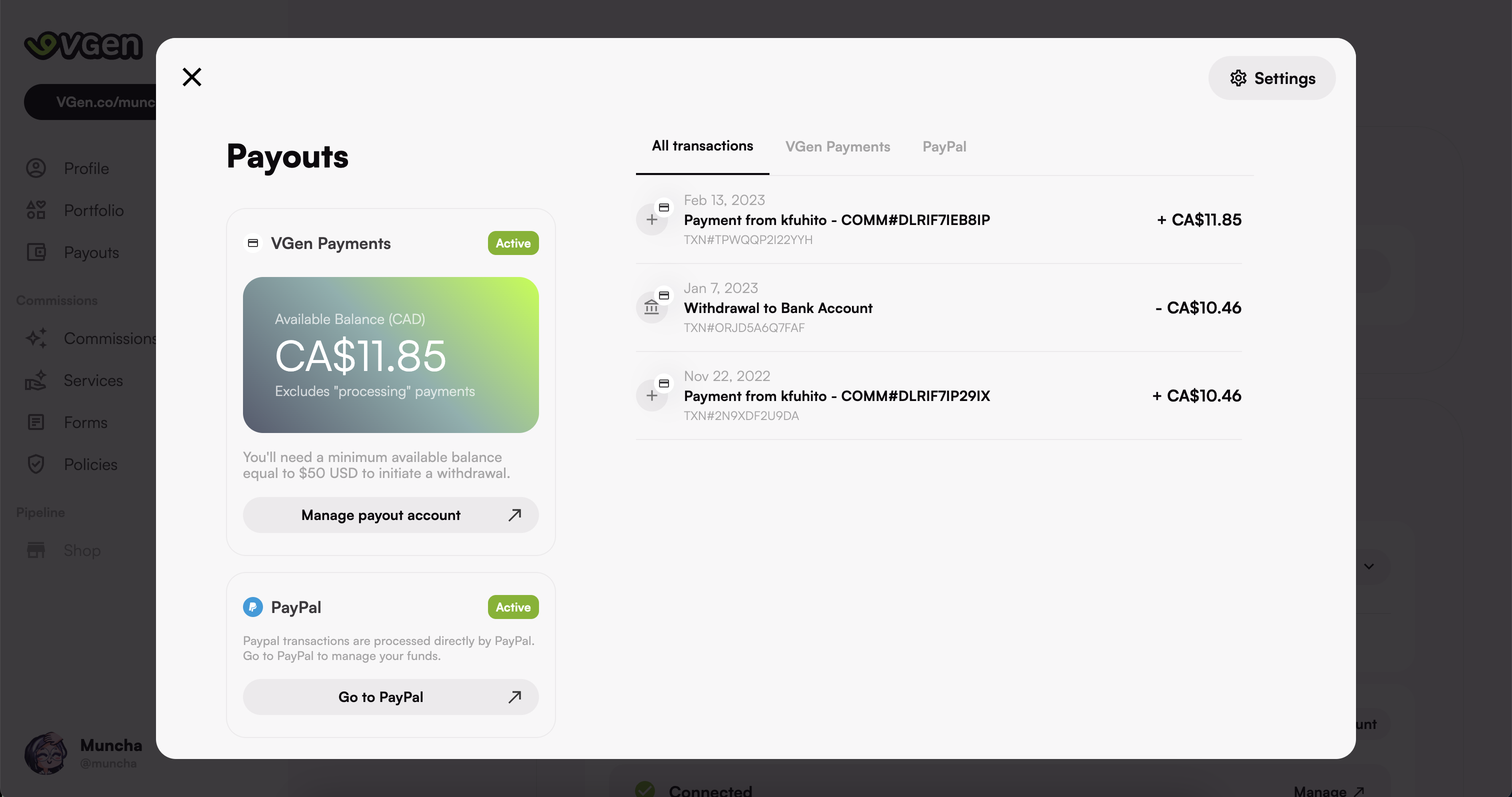 Availability
While we support 149 countries, which of our two payment processors you'll have access to depends on where your bank country is.
All of your available options will be listed in your Settings page.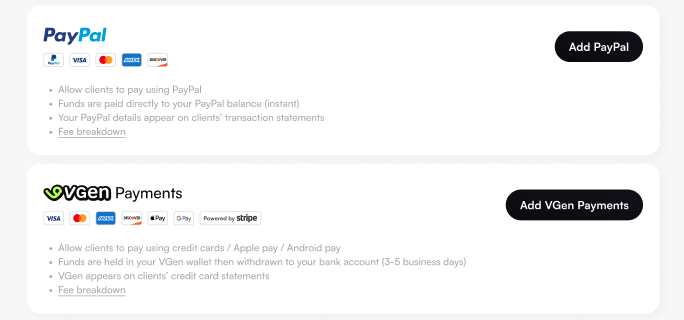 VGen Payments vs PayPal
Both our in-house bank payout system (powered by Stripe) and PayPal are easy, secure, powerful, and delightful payment options with their own pros and cons.
| | | |
| --- | --- | --- |
|   | VGen Payments | PayPal |
| Payment options | Apple Pay, Android Pay, Credit cards, Debit cards | PayPal, Credit cards, Debit cards |
| Fees | Tends to have lower fees for international payments (you + client based in different countries) | Tends to have lower fees for domestic payments (both you + client based in same country) |
| Access to funds | 3-5 business days: funds need to be transferred to your local bank to be accessible | Instantly: funds are transacted directly from client's PayPal to your PayPal balance |
| Disputes | Managed by VGen | Managed by PayPal |
| Personal details | VGen's details are on the credit card statement. All of your personal details are hidden. | You + PayPal are on the credit card statement. Your PayPal details are displayed. |
To maximize your client's payment options, we strongly recommend you enable both if they're available to you.
VGen Payment Setup
Setting up your payout account will take a few minutes and is very straightforward, although it does require you to complete the steps on the Stripe website for maximum security.
Follow the steps in Stripe
For setting up your payout account, all you'll have to do is confirm your basic details and add your bank account so that we know where and in what currency to send your funds.
Note on further verifications
On the last step of your Stripe setup, you'll notice there are options to confirm your ID and additional details. You can choose to skip these steps for now but note that when you pass Stripe's payment threshold for ID confirmation (sometime in the future), you will be prompted to complete these additional steps.
Transaction details
Every time funds move in or out of your account, each transaction along with its details will be documented in the Payouts tab > Transactions table.
PayPal Setup
Whether you already have a PayPal account or not, you can follow the steps directly from the VGen dashboard to start enabling PayPal payments.
We support PayPal Business accounts for all PayPal countries but only select countries for Personal PayPal accounts. You can try your Personal account if you'd like but may be prompted to switch to a Business account if required.
Follow the steps in PayPal
If you already have a PayPal account, setup will be as simple as clicking a few confirmations.
If you don't already have a PayPal account, setup will take a few more minutes but is just as simple. Although note that you will need to have verified your email before you're able to actually link your PayPal account.
Note on personal information
Because you are directly transacting with the client when using our PayPal integration, your details will be shared with the client based on PayPal's requirements. Be sure to check your PayPal dashboard to adjust any public information as applicable.
Special privacy note on PayPal Business account vs PayPal Personal account →
Transaction details
All transaction with PayPal are processed directly by your PayPal account and so all of your transaction will be documented directly in your PayPal dashboard.
#ready
You're all set to start accepting comms!
If you send yourself a test commission, BE SURE TO NAME ANY TEST COMMISSIONS CLIENT NAME: 'TEST'
Once you're comfortable with the process, you're ready to go live! Go on, share your VGen profile in your Twitter bio, send to potential clients, and start receiving comm requests.
Be sure to check out Panels + Graphics for Twitch panels and buttons and Chatbot Commands for chatbot integrations!
Best of luck and definitely say hi in Discord for personalized profile reviews, feature requests, and general hangouts~